Cocktail Box Romantic LOVE
BIT0042038
75,00€ 2 tumblers for free. Special offer 65,00€ for limited time only

Just for your Valentine's Day, two best sellers with a romantic spirit... combine their charms for an irresistible tasting journey to dream destinations and scents.
Key Ingredients:
2 tumblers for free

|

1 Postcards from Venice box of 4 cocktails: 421- Laguna, 1104- Arsenale, 1725- Le Calli di Casanova, 2021- Cannaregio

|

1 Portofino Dry Gin Box of 4 cocktails: Negroni Portofino, Gimlet Portofino, Bramble, Caffè in Piazza
75,00€ Special offer 65,00€

for limited time only with 2 tumblers for free
This duo of boxes (each containing 4 cocktails) best represents NIO Cocktails' mission: to bring quality cocktails to wherever you want them... with all the flavours of the most romantic destinations ever, perfect for the occasion. Everything is made unique by a free gift: a pair of crystal glasses to enjoy a magical moment by candlelight with everything you need.

- 1 Box Portofino Dry Gin: 4 cocktail inspired by one of the most glamours and romantic riverside in the world.


NEGRONI PORTOFINO

Portofino Gin | Cocchi White Americano | Luxardo White Bitter | 25.4% | 100 ml


Negroni Portofino is white, very fresh, rich in botanic scents, chic, and amazing. This bitter has adult and summer tones making your aperitifs unique on the pier or at sea, all with a breathtaking view to enjoy with the people closest to you.


GIMLET PORTOFINO
Portofino Gin | Carlo Alberto Sage and Lemon Liqueur | Giffard Ginger Liqueur | Toschi Liquid Sugar | Organic Citric Acid | 25.3% | 100 ml


The delicate notes of Portofino Gin are combined with both the plant-like, refreshing notes of sage and lemon liqueur and refreshing ginger liqueur. The result is a corroborating and fragrant cocktail to sip under a tree, with a sea view, to be transported in an instant to the Portofino flower gardens.


BRAMBLE
Portofino Gin | Giffard Creme de Cassis | Cointreau | Toschi Liquid Sugar | Organic Citric Acid | 23.6% | 100 ml


The full, astringent tones of mixed berries, the freshness of organic citric acid, the scent of the Ligurian coast botanics, and the citrus notes of Cointreau magically combine in a luxurious, elegant cocktail, to sip by the sea, imagining the peace of the Portofino promontory.


CAFFÈ IN PIAZZA
Portofino Gin | Cocchi Storico Vermouth di Torino | Fair Coffee Liqueur | 26.4% | 100 ml


Portofino Gin and Fair liqueur, combined with the Italian red Vermouth rich in spicy, winy notes, accompany you to the coffee table in the square at Portofino. This twist on classic is inspired by the 1980s Martinez to offer a sophisticated summer cocktail with a full, rounded bouquet, which fills the palate and refreshes it after a hot day on the beach.
-
1 Box Postcards from Venice
: 4 cocktails to celebrate the misterious elegance of Venice.
421 - Laguna
(Select - Cocchi Vermouth Americano; 100 ml, 13.6% vol.)
A genuine cocktail to celebrate the origins of Venice; a cocktail for a no-frills tasting of the irreplaceable ingredient for the authentic Venetian Spritz: Select. Patrick chose Vermouth, a fortified wine, for this trip.


1104 - Arsenale
(Select - Bonollo Italian Brandy - Cocchi Americano Vermouth - Chazalettes; 100 ml, 21.4% vol.)
Arsenale: Patrick wanted to dedicate a bold, strong, intensely Italian cocktail to the fortified heart of the city. An aperitif with character, for daring palates and lovers of tradition.

1725 - Le Calli di Casanova
(Select - Bols Creme de Cacao - Organic Citric Acid - Liquid Sugar; 100 ml, 11.1% vol.)
Venice gives vibrations that meet an enveloping softness in this unique cocktail. This cocktail, deep in notes and impish in its combination, will pay homage to the art of beguiling and intriguing with the strength of Select and the sweetness of Creme de Cacao.

2021 - Cannaregio

(Select - Italicus - Pommè Roner Liqueur - Organic Citric Acid - Liquid Sugar; 100 ml, 12.5% vol.)
This cocktail is dedicated to the most cosmopolitan and contemporary district of Venice. It's the most experimental cocktail Patrick dedicates to the Republic of Venice. A wish for a future of peace and beauty, a fragrant and unusual mix around Select.

The 2 tumblers for free will be delivered in dedicated small packs.

Hand-mixed in Italy with the best spirits in the world
We'll bring a high quality, thrilling tasting experience to your home or wherever you like. Treat yourself to or gift a wonderful sensory moment; our cocktails are created to Patrick Pistolesi's recipes and shipped in fully recyclable designer packaging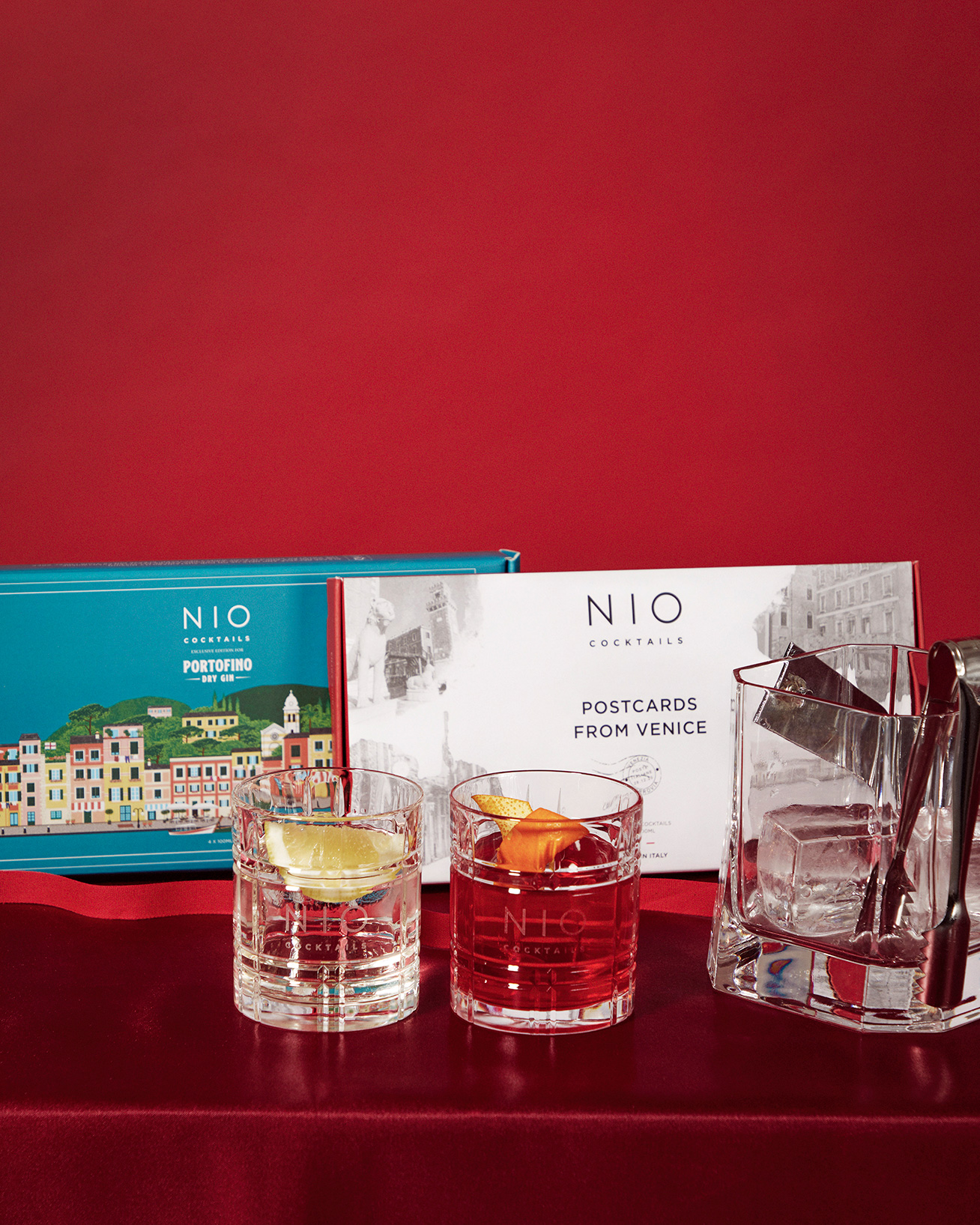 Romantic Love Box for intimate, intense love
With Postcards from Venice, NIO Cocktails pays homage to the romanticism of Venice through a celebration of fine mixology based on Select, an iconic Venetian aperitif. The box consists of 4 original cocktails: Lagoon, Arsenale, The Calli di Casanova, and Cannaregio. Each blend is an authentic postcard in which Pistolesi recalls the wonderful experiences of a journey in close contact with the legends and mysteries of the city. The second choice is the NIO Cocktails x Portofino Dry Gin Box, made unique with 4 signature cocktails that include bitters and sweet, fruity, citrusy drinks that are classics with a twist. With each sip, it will seem like you're diving into Portofino's summer thanks to the fresh, young flavor of Portofino Dry Gin.It is a real memory of summer loves.