Cocktail Box Sweet LOVE
BIT0042052
35,00€ 2 tumblers for free. Special offer 25,00€ for limited time only

Sweet like Chocolate. Enveloping like an excellent Rum-based cocktail. This is the love we celebrate with a perfect combination box - enhanced by the tumblers for free - for a perfect sweet and refined cheek to cheek. Here is the Majani box exceptionally for Valentine's Day, with 2 NIO glasses as a gift.
Key Ingredients:
2 crystal tumblers for free

|
2 bars Scorza Grezza Majani 90%

|
2 NIO Cocktails 1832: Carúpano Rum | "Crème de Cacao White" Liqueur Bols | Liquid Sugar | Organic Citric Acid
35,00€ Special offer 25,00€¢

for a limited time only with 2 tumblers for free
Just for your Valentine's Day full of sweetness and elegance, we've accompanied our rum and chocolate cocktail tasting box with a pair of glasses for the perfect cheek-to-cheek rendezvous.

Majani Box contains 2 NIO Cocktails 1832, signature cocktails specially designed to be enjoyed with this chocolate - the perfect ingredient to pair with rum and whisky. That's why our master mixologist Patrick Pistolesi has created an exclusive cocktail based on Rhum Carùpano. This special rum has been perfectly blended with Bols "Crème de Cacao White" liqueur to give an unmistakable sweet and enveloping flavour to the cocktail.

The 2 tumblers for free will be delivered in dedicated small packs.
Hand-mixed in Italy with the best spirits in the world
We'll bring a high quality, thrilling tasting experience to your home or wherever you like. Treat yourself to or gift a wonderful sensory moment; our cocktails are created to Patrick Pistolesi's recipes and shipped in fully recyclable designer packaging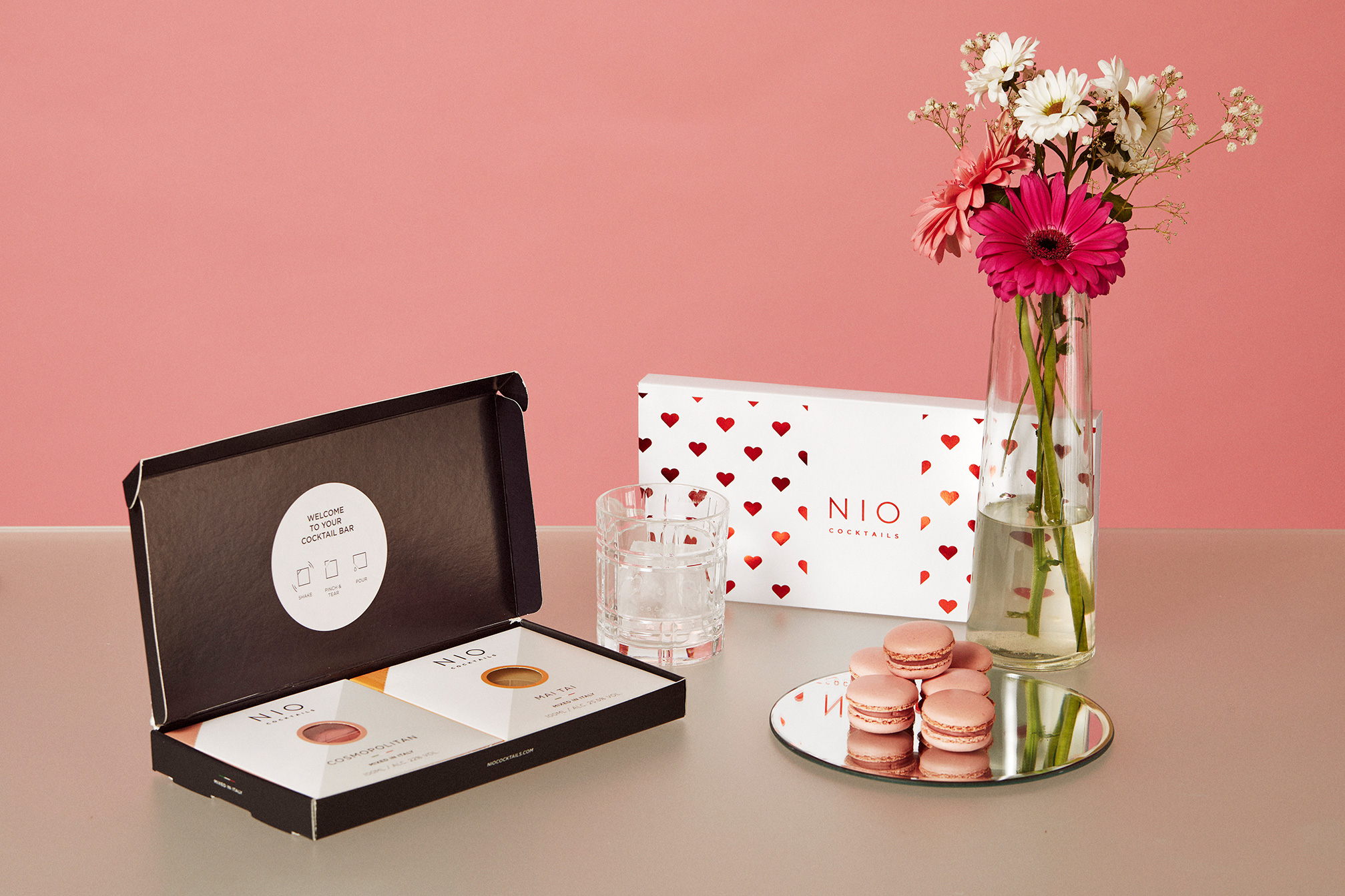 Sweet Love Box for fearless love
"NIO Cocktails and Majani 1796 get together for this very elegant collaboration that renews the 1832 Majani Cocktail Experience: the box combines a NIO signature cocktail based on a very special rum and Majani chocolate to offer an intimate and irresistible tasting experience. For Valentine's Day, the box comes with two glass tumblers for immediately sharing the moment."