EXPERIENCE BACKPACK
109.00€
BIT1041260
Enjoy frozen cocktails everywhere and at any time with your take-away bar.
Key Ingredients:
NIO Thermal Backpack

|
2 5 cocktails boxes

|
NIO Medium Carry Bag

|
NIO Ice Travel Bag

|
NIO Ice Travel Tray

|
NIO Travel Tumblers x4
YOUR KIT:
1 Thermal Backpack

2  5 cocktails Boxes

2 special thermal pouches for ice and cocktails

4 customized borosilicate tumblers

1 ice ball mould created for NIO in Italy by TheBars



The exclusive NIO Cocktails Backpack Experience allows you to enjoy your favourite NIO cocktails wherever you are.
Take the best cocktails with you, protecting the glasses from knocks and ice from high temperatures. Extend the times and places to enjoy a high mixology drink with this kit - win over everyone during a chic picnic, on a boat or beach or during a trip.
THE THERMAL BACKPACK FOR YOUR NIO COCKTAILS
In technical but refined fabric, we designed this special backpack thinking of:
functionality: triple thermal level to transport cocktails and ice keeping them at the perfect temperature for the best tasting of your NIO Cocktails;
style: the design is inspired by our now iconic packaging. The minimal look makes it a real accessory for your outfit;
100% made in Italy from idea to production.
We left extra room for your belongings, as well as a waterproof front pocket.
Size: 36x50x16 cm
THE POUCH
A handy pouch bag, perfect for holding 5 NIO cocktails, the ice mould and 4 glasses.
Branded NIO Cocktails in a sober black colour, will allow you an agile and discreet tasting.
Size 32x22x9cm
Insulated lining inside the pouches:
Antibacterial
Antifungal
Certified for food contact
Certified for health use
Biodegradable
THE ICE MOULD
A spherical food silicon ice mould made in Italy to amaze your friends and make tasting excellent. The size of the moulds facilitates rapid cooling of the cocktail and prolonged temperature maintenance without diluting the drink Dishwasher safe.
Sphere diameter 6 cm
THE MINI POUCH
Made to measure for our ice mould, it adds 1-3 hours of protection for your ice, depending on the actual temperature. Once in the park, on a boat or at the beach, it will be essential for serving your cocktails impeccably, as in a true mixology manual.
Size 14x14x6cm
Insulated lining inside the pouches:
Antibacterial
Antifungal
Certified for food contact
Certified for health use
Biodegradable
THE GLASSES ARE LIGHT
Polycarbonate tumblers, as always personalised NIO Cocktails. Every detail of a premium experience must be looked after, linear, elegant and with the logo icon of the world of ready-to-share cocktails.
And especially light and easy to carry.
Capacity: 255cc
Hand-mixed in Italy with the best spirits in the world
We'll bring a high quality, thrilling tasting experience to your home or wherever you like. Treat yourself to or gift a wonderful sensory moment; our cocktails are created to Patrick Pistolesi's recipes and shipped in fully recyclable designer packaging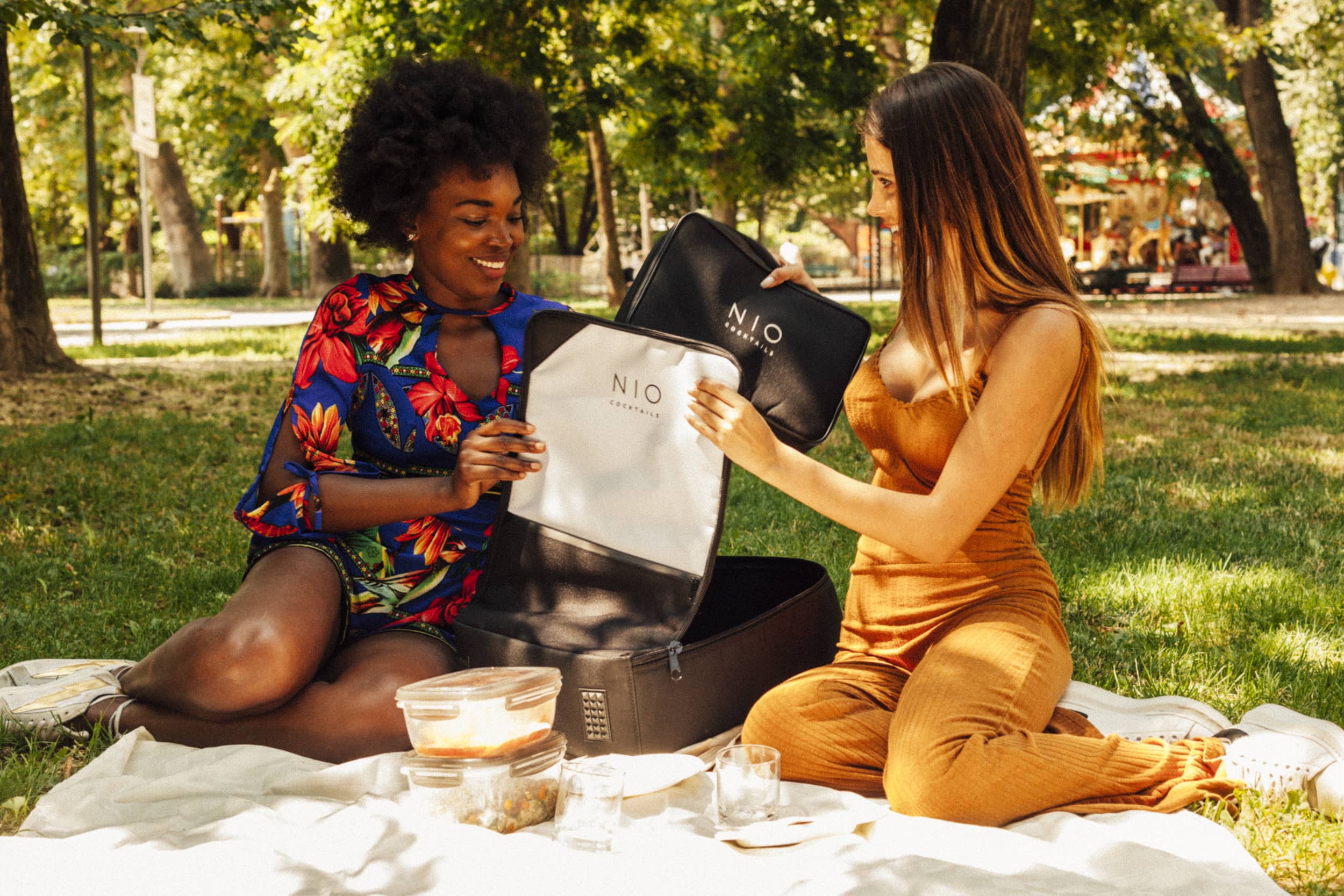 Take the cocktail bar with you
We think that you should never have to forego a perfectly mixed cocktail, in any situation, including those where nobody has ever dared think of having a personal bar with them. At the park, on a trip, a boat, or for an outing - every detail of this backpack has been made to protect cocktails and accessories even when you're outdoors.