Hand-mixed in Italy with the best spirits in the world
We'll bring a high quality, thrilling tasting experience to your home or wherever you like. Treat yourself to or gift a wonderful sensory moment; our cocktails are created to Patrick Pistolesi's recipes and shipped in fully recyclable designer packaging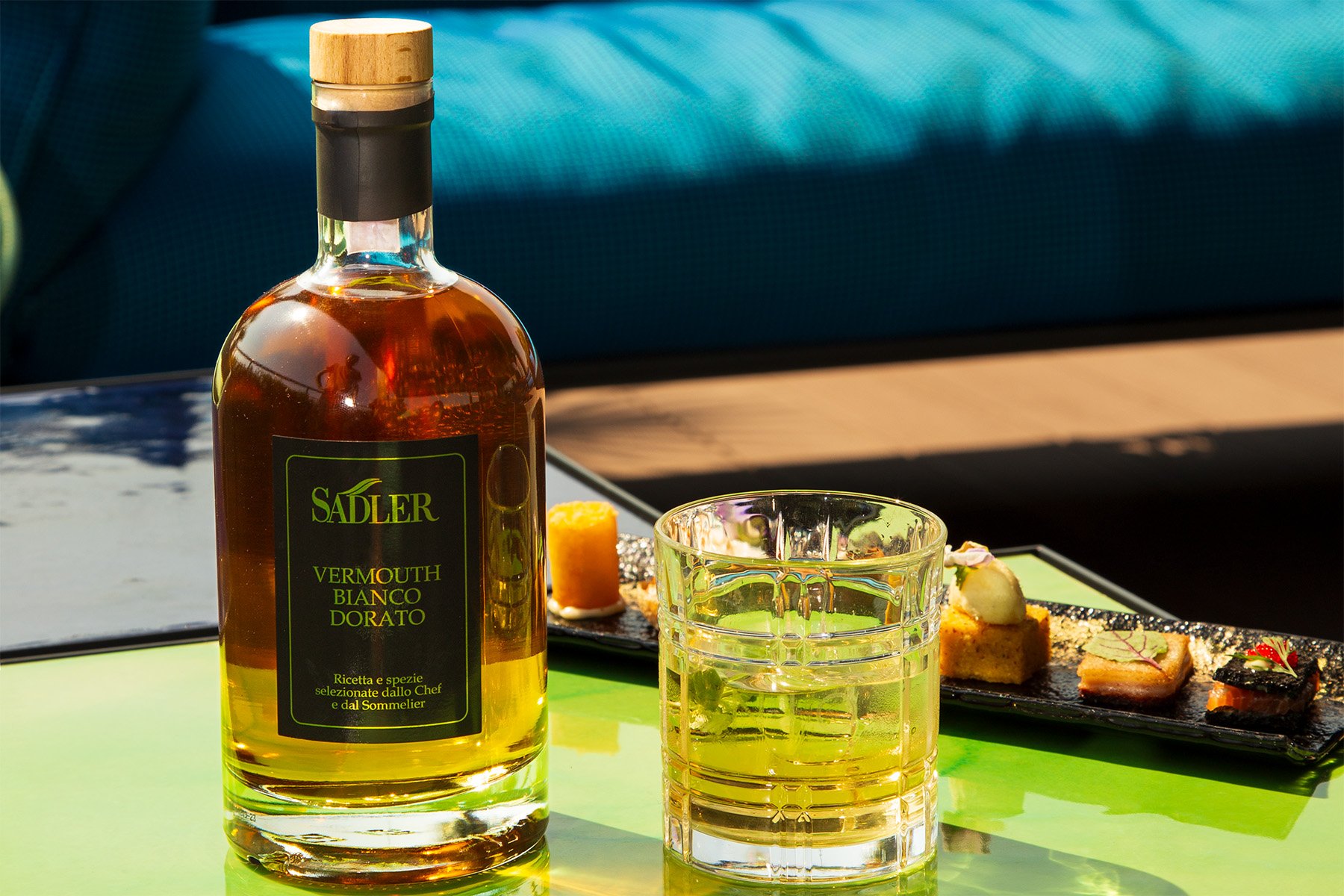 The Tel Ch!'s Story
TEL CH! was meticulously crafted by Mario Ippoliti, the sommelier at Ristorante Sadler, with a deep understanding of the Chef's story and philosophy. Let's delve into its essence: Vermouth, produced by The Spiritual Machine, serves as the cornerstone. It's already a key ingredient in one of Chef Sadler's most iconic cocktails, the "Mi-To" – a reimagining of the Milano-Torino classic, blending Tradition & Innovation with Sadler Vermouth. However, the Vermouth used in TEL CH! boasts a unique twist: it's the first golden white Vermouth characterized by a base wine from Oltrepò Pavese, courtesy of Cantina Scuropasso. This once again underscores the Chef's profound connection with the territory, a place he aims to celebrate in every sensory aspect. Complementing the Vermouth is the aromatic touch of saffron, the citrusy hints of bitter orange peels, and the subtle floral notes of elderflower. To further enrich the drink's complexity, rice vinegar was employed. This not only pays homage to the connection with Milan but also honors Executive Chef Park Kisung's Korean heritage. It's a nod to yet another chapter in the Chef's life, his experience in the East.
Taste a high quality cocktail, wherever you want it: just 3 gestures...
1. Shake
Choose your favorite NIO Cocktails and have a glass full of ice ready. Shake the pack.
2. TEAR OFF
Just pinch and tear the colored corner, you do not need to remove it from the paper case.
3. POUR
Pour into the glass and let stand for a minute to enjoy everything perfectly... better in good company.
Would you prefer to visit our EU store?
NIO has different stores for different regions and we want to make sure that you browse the correct store.

Are you 18+?
To enter website you must be 18+