Tequila Box
54€
BIT0977411
Ognuno dei nostri Margarita è stato creato e miscelato con ingredienti premium dal nostro master mixologist Patrick Pistolesi, anima del cocktail bar Drink Kong di Roma, uno dei migliori al mondo, per darti un assaggio di sole e di allegria. Il gusto intenso, rotondo e pungente, della Tequila Exotico Blanco, a base di erbe con sfumature speziate e di agave blu delle Highlands di Jalisco in Messico, evoca i cieli azzurri, gli oceani cristallini e i caldi deserti di uno dei più bei paesi del mondo. Goditi le note dolci, vivaci e allo stesso tempo aspre del Margarita e dei nostri twist, il tocco speciale per una favolosa serata con amici.
Key Ingredients:
3 X Margarita 27.2% Vol | 2 X Tommy's Margaritas 20% Vol | 2 X Strawberry Margaritas 25.8% Vol | 2 X Margarita Next 10.8% Vol.
3 X Margarita - Tequila Exotico Blanco 100% Blue Agave / Cointreau / Giffard Sciroppo al Lime / Acido citrico / Acqua / 100 ml / 27.2% vol
Un classico messicano aspro e aromatico con Tequila Exotico Blanco 100% agave blu, Cointreau e un pizzico di sale.
2 XTommy's Margarita - Exotico Blanco Tequila / Sciroppo d'agave biologico Toschi / acido citrico biologico / acqua / 100 ml / 20% vol
Una rivisitazione rinfrescante del Margarita in cui lo sciroppo d'agave esalta la Tequila Exotico Blanco 100% agave blu.
2 X Strawberry Margarita - Tequila Exotico Blanco (45%) / Cointreau (15%) / Crème de Fraise Merlet (10%) / Sciroppo di Fragole 1883 / Acido citrico / Acqua / 100 ml / alc. 25,8 vol
Protagonista del drink è la dolcezza della fragola, sublimata dall'asprezza del lime e delicatamente bilanciata da una spruzzata di tequila exotico blanco.
2 X Margarita Next - Cointreau / Seedlip Grove 42 / Exotico Tequila / Sciroppo d'agave / Soluzione di lime / 1883 Lime Cordial / Acqua / 100ml / LOW ABV 10.8
Con note aspre, sfacciate, solari, agrumate e dolci, questo cocktail è una perfetta rivisitazione a bassa gradazione alcolica del classico messicano Agave.
Hand-mixed in Italy with the best spirits in the world
We'll bring a high quality, thrilling tasting experience to your home or wherever you like. Treat yourself to or gift a wonderful sensory moment; our cocktails are created to Patrick Pistolesi's recipes and shipped in fully recyclable designer packaging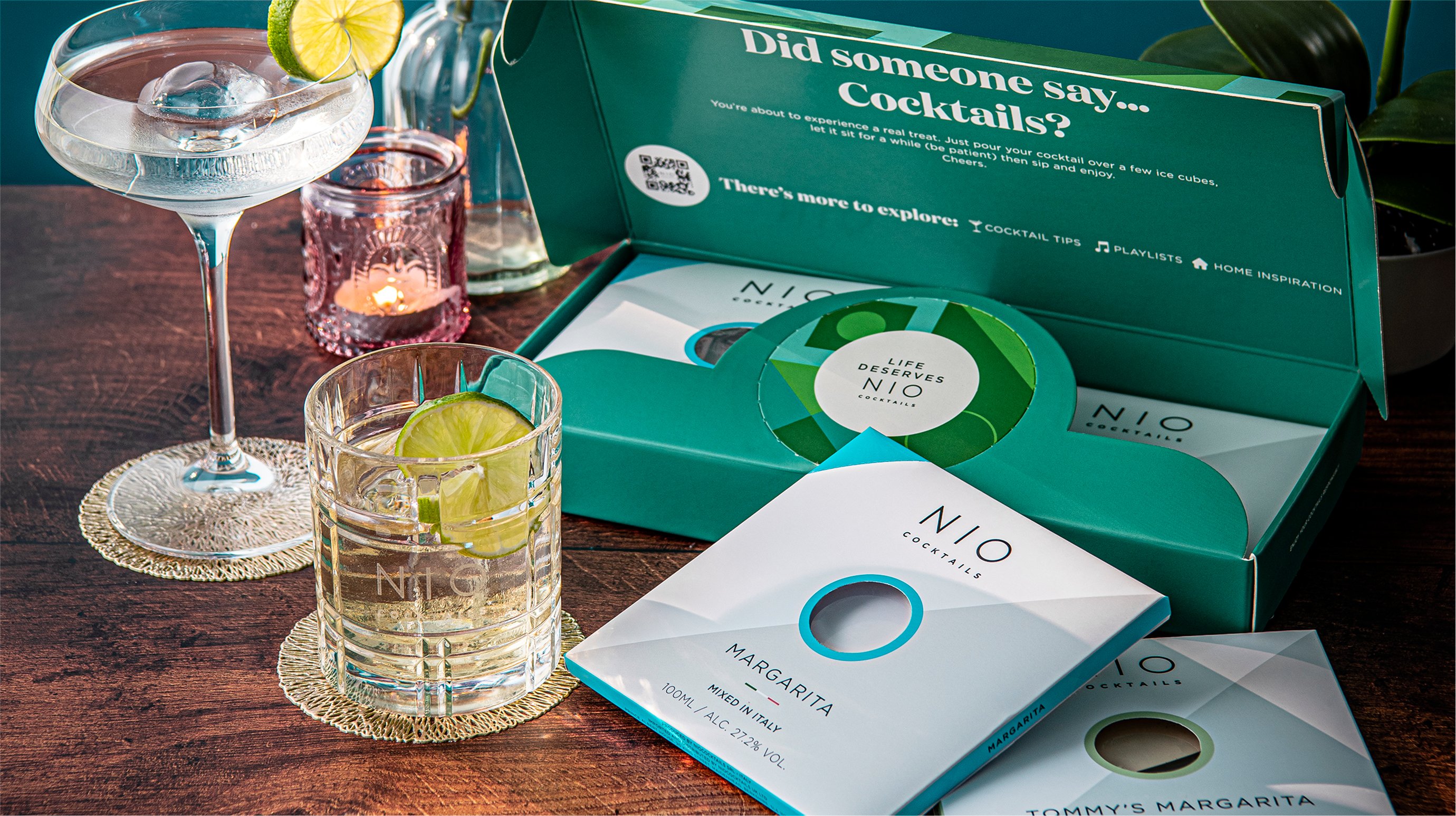 Perchè ti piacerà
Come si può non essere felici di essere trasportati, ad ogni sorso, verso mete esotiche? Questa box è proprio quella che stavi cercando per dare il tocco di classe finale a quella serata a casa con le persone care. Tra i cocktail è incluso anche il Margarita Next, a bassa gradazione alcolica, il nostro nuovo twist sul classico. Come lo stesso Patrick afferma: "Il Margarita Next è sole e puro divertimento; fresco, vibrante e poco alcolico per permettere agli amanti del classico Margarita di bere leggero, senza però perdere le note che tanto amano." Segui il sole e vivi il divertimento con questa Margarita Box che abbiamo appositamente creato per te. ¡Salud!