EXPERIENCE BAR CABINET: the NIO Cocktails tray
49.00 € (tumblers and cocktails NOT included)
POS0053435
This tray has been designed to recreate a compact, practical bar area for your guests. We've named it the Experience Bar Cabinet as it reinterprets a great furniture trend and modern elegance for simple, refined mixology.
We've designed our NIO Cocktails tray to recreate an elegant, compact mini bar. Display and serve your NIO Cocktails on the light polycarbonate tray that takes up minimal space. Every detail has been designed with painstaking care. The tray contains 6 glasses and a cooler for perfect cocktail serving.
The tray is a real Mini Bar Cabinet measuring just 41 x 28.5cm and has:

6 fessure sottili per contenere fino a 6 NIO Cocktails

6 slots for 6 round-bottomed tumblers , 7.8 cm max diameter (for serving cocktails and for holding garnishes and snacks)
A 14 x 14 cm slot for your ice tray or for a small ornament to enhance your serving display.
It's the Cocktail Revolution you've been waiting for. Enjoy it to the full with the Experience Bar Cabinet.
Hand-mixed in Italy with the best spirits in the world
We'll bring a high quality, thrilling tasting experience to your home or wherever you like. Treat yourself to or gift a wonderful sensory moment; our cocktails are created to Patrick Pistolesi's recipes and shipped in fully recyclable designer packaging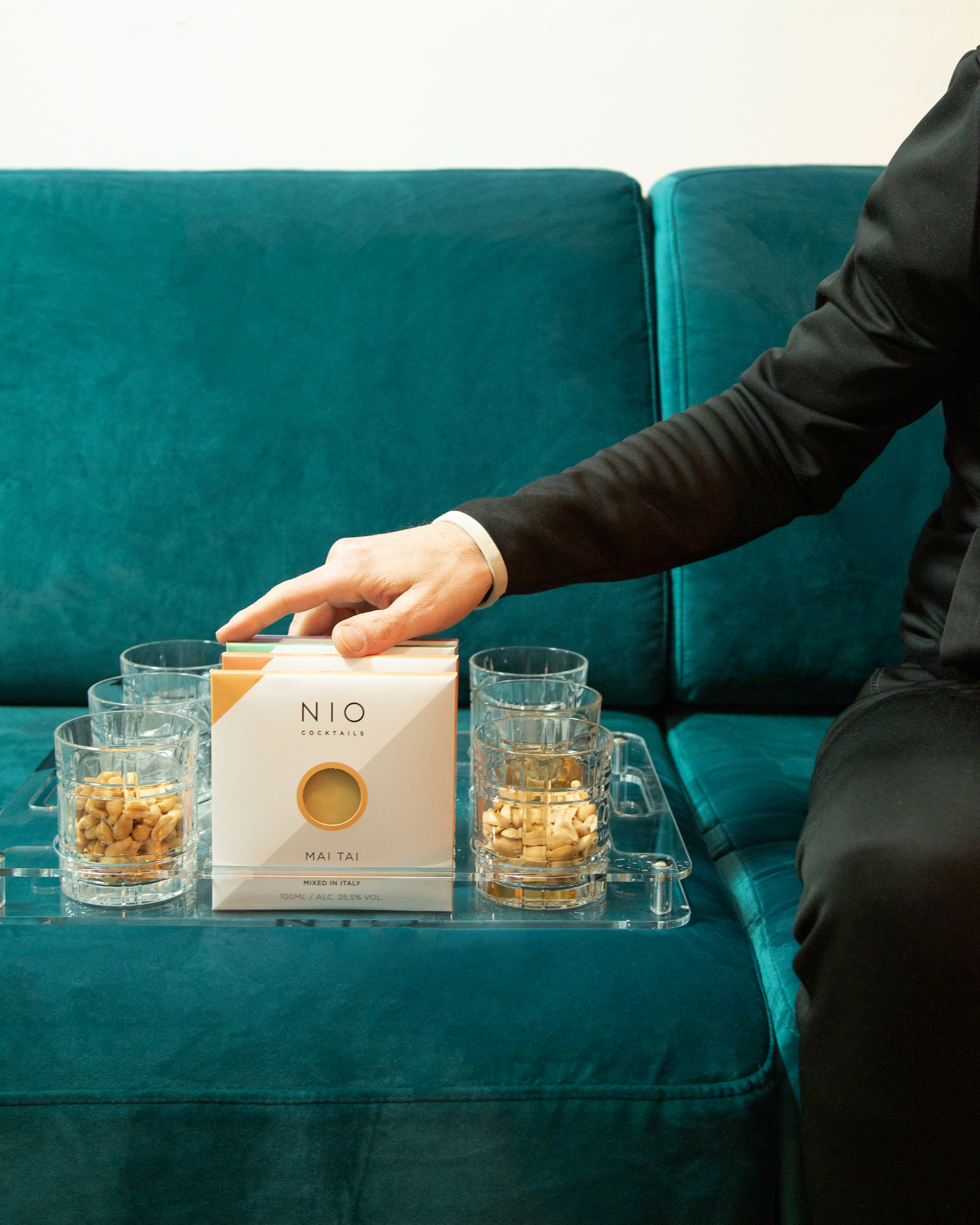 Elegance for the modern era: mixology served with style and simplicity
Today's lifestyle and homes focus on simplicity, quality and attention to detail, just like this NIO Cocktails reinterpretation of a stylish household classic: the cocktail bar. We've redesigned an item of furniture and a tray to combine in an extremely practical, minimalist accessory. This light, elegant way to serve aperitifs or after-dinner drinks can easily become a visible, decorative element for your living or dining room. Its compact design holds 6 NIO cocktails, 6 tumblers and a slot for a cooler or a decoration like an atmospheric candle, a delicate flower or a gift for your guests. The spotlight is on taste and practicality, in perfect NIO Cocktails-style.