NIO Cocktails x GQ Box
99.00€
BIT0440904
NIO Cocktails and GQ launch their first collaboration to celebrate mixology through the urban style of 4 iconic metropolises.
Key Ingredients:
4 Exclusive cocktails: Milanese Bianco, The Dandy, The Big Apple, Sensei

|
4 tumbler

|
4 Fedrigoni premium paper prints

|
1 ice ball mold of 6 cm of diameter

NIO Cocktails has created 4 signature cocktails only for GQ, an impeccable tasting episode from which then comes to life and almost physicality, a real aesthetic diary of a sensory journey through 4 capitals of taste from different styles. The luxury box dedicated to GQ contains 4 exclusive cocktails, designed and perfectly mixed by Patrick Pistolesi, 4 original tumblers different from each other to enhance the taste of each cocktail, 1 ice mold, and 4 premium prints to decorate your home.
NIO Cocktails created the perfect gift for men and women who always like to take care about style. A gift that will surely excite those who love to live their time at their best, who knows how to appreciate the strength of these 4 great cities... but who is able to carve out a relaxing break when he comes home and can finally treat himself to a cocktail, a moment of real pleasure after a busy day.
In order to create the special cocktails contained within the box, NIO Cocktails was inspired by 4 cities that could represent 4 different styles, well distinctive, refined and unique:
Milano,

which is paired with " Milanese Bianco" cocktail, a more harmonious and round version of the classic Negroni;

New York, with "Big Apple", in which the green apple liqueur celebrates the great American metropolis;

London with "The Dandy", a classic gin sour with an exotic touch given by the ginger liqueur;

Tokyo with "Sensei", technically perfect and exquisitely oriental with yuzu liqueur, a typical Japanese citrus fruit.
Everything is embellished with 4 tumblers with a unique design, perfect to taste a recipe of high mixology, and aesthetically selected because inspired by the most iconic details of the 4 cities. 4 design pieces that will make your home cocktail bar unique. The tumblers are custom NIO x GQ..
In the GQ box you will also find: 4 iconic prints made by art director Paolo Prossen, to immerse yourself even more in the metropolitan atmosphere, and an ice mold to live 100% the experience of the perfect mixologist.
Hand-mixed in Italy with the best spirits from all over the world
We'll take you home or wherever you like, a high quality and exciting tasting experience. Treat yourself or give someone you love a wonderful sensory moment: our cocktails are created on the recipe of Patrick Pistolesi and shipped in a design packaging entirely recyclable,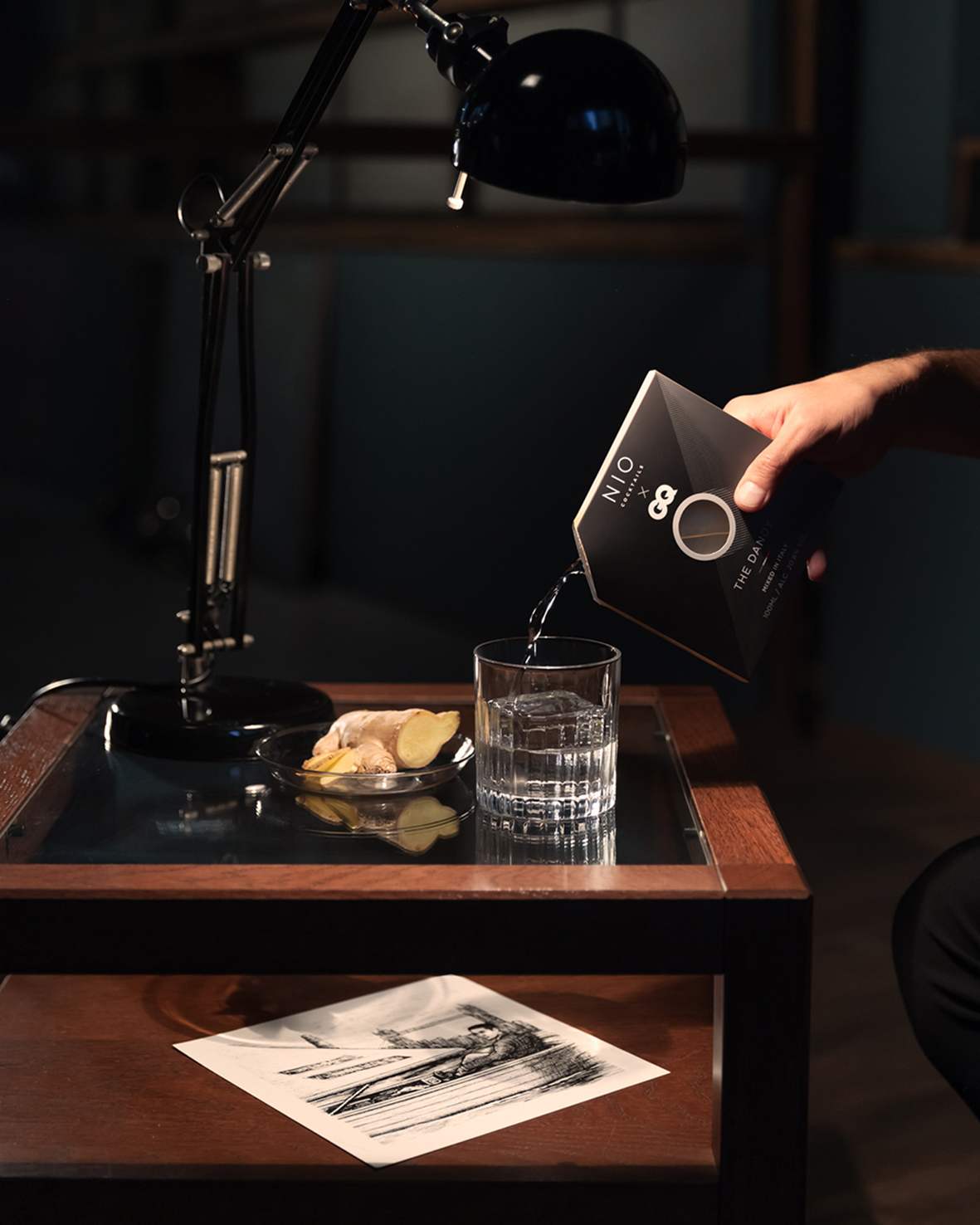 The cocktail bar at your home with NIO Cocktails and GQ
The GQ casket includes :
4 signature cocktails:
Milanese Bianco (Gin Tanqueray, American Cocchi, Bitter White Luxardo)


The Dandy (Gin Tanqueray, Liquore Briottet at the Zenzero, Liquore Monin to honey, Organic Citric acid)


The Big Apple (Whiskey Bourbon Bulleit, Liquor Ronner at the Green Mela, Organic Citric acid)


The Sensei (Whiskey Tottori, Liquor at Yuzu, Sciroppo at the Lichi, Organic Citric acid)
4 customized tumbler glasses at NIO x GQ laser
1 mold ball ice
4 prints in precious paper Fedrigoni
NIO Cocktails x GQ limited edition port where you want high mixology in an iconic 100% recyclable Box of design.