Dry Martini Collection
32.50€
BIN0444131
From the experience of Javier de La Muelas, an institution in the world of mixology and founder of the DRY MARTINI project, a unique limited edition collection is born with the great classics of the history of mixing made with premium quality ingredients.
Key Ingredients:
1 White Box (1 Cosmopolitan, 1 Gimlet, 1 Dry Martini, 1 Tommy's Margarita)
NIO Cocktails and
Javier de la Muelas met thanks to their common values:
- sharing the culture of well drinking  all over the world
- the passion for perfect mixology.
This led the collaboration to a natural result: starting from the great classics of mixology and reinterpret them with a modern twist.
Javier de la Muelas has a fascinating history. He is a successful entrepreneur and one of the most important mixologists in the world, he took over the historic Dry Martini bar in Barcelona and transformed it into a real temple of mixology. Dry Martini soon became a global brand with which mixology is also brought outside cocktail bars, forging collaborations with the most prestigious hotels.
For Javier de la Muelas the bar is like a church: the counter is the altar, the customers are the parishioners and the mixologist is like a priest who reserves the most delicious offer for his client: the cocktail, perfectly mixed with the best ingredients.
Javier de la Muelas is now the only one in the world who can display the "Speakeasy" plaque outside his bar, because he himself has registered the trademark.
Javier de La Muelas's experience guides us in discovering the most authentic flavors in a collection consisting of:
A White Box that includes:
- Cosmopolitan: (Vodka Ketel One / Cointreau Liquor / Toschi Cranberry Syrup / Organic Citric Acid , 21% VOL.)
- Gimlet: (Gin Tanqueray, Cordial Lime Rose's, 23.3% VOL.)
- Dry Martini: (Gin Tanqueray /Noilly Prat Dry Vermouth, 29.7% VOL.)
- Tommy's Margarita: (Don Julio Tequila/ Toschi Agave Syrup/ Organic Citric Acid, 20% VOL.)
1 Black Box containing:
- Negroni: (Gin Tanqueray / Cocchi Vermouth Storico di Torino / Bitter Campari / Droplets Mediterranean Rosemary, 22% VOL.)
- Old Fashioned: (Bulleit Bourbon / Toschi Liquid Sugar / Angostura Aromatic Bitter / Orange Bitter, 28.7% VOL.)
- Espresso Martini: (Vodka Ketel One / Caffé Borghetti Liquor, 26.8% VOL.)
- Manhattan: (Bulleit Bourbon / Cocchi Vermouth Storico di Torino / Droplets Mediterranean Rosemary, 24.2% VOL.)

Cheers!
Hand-mixed in Italy with the best spirits in the world
We'll bring a high quality, thrilling tasting experience to your home or wherever you like. Treat yourself to or gift a wonderful sensory moment; our cocktails are created to Patrick Pistolesi's recipes and shipped in fully recyclable designer packaging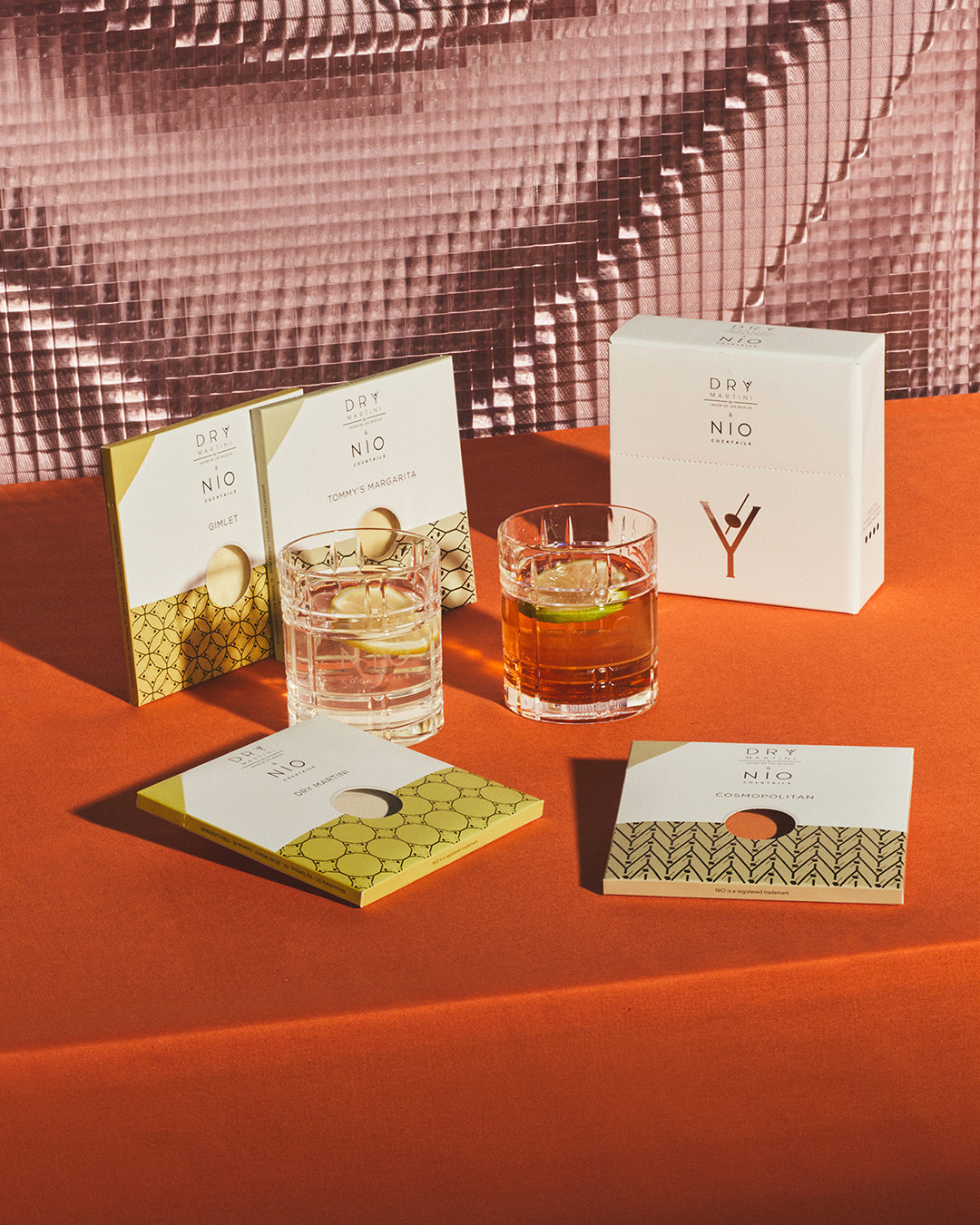 NIO Cocktails and Dry Martini for a complete tasting experience
NIO Cocktails è la startup italiana leader nella miscelazione artigianale di cocktail ready to share. Tutti i cocktail sono creati esclusivamente con ingredienti premium, firmati dal noto mixologist Patrick Pistolesi e contenuti all'interno di una confezione dal design iconico 100% riciclabile.bDry Martini è il cocktail bar di Barcellona, nato più di 30 anni fa, diventato un'icona nel mondo dei cocktail. Fondato da Don Pere Carbonell, inizialmente serviva solo il cocktail Dry Martini.
Quando Javier de las Muelas iniziò a gestirlo volle mantenere l'essenza e lo stile del cocktail bar classico, pur ampliando il menù con nuove collezioni innovative di cocktail.
Il Dry Martini di Javier de las Muelas, è nella lista dei 50 migliori bar del mondo per il settimo anno consecutivo.